Lazuro's Products for Thanksgiving
Thanksgiving is the time of year when families get together to enjoy each other's company, be thankful, and feast on delicious food. The kitchen is the heart of the home during this time, and everyone wants it to look its best. Lazuro has everything you need to make your kitchen look great this Thanksgiving. Their matching kitchen sets and other products — featuring lovely coastal-themed colors — are both affordable and high quality. You can get all the matching utensils, dishes, and other kitchenware you need in one place. This will make your Thanksgiving preparation much easier and your kitchen will look great when everyone gathers around the table. So check out Lazuro's products today and make your Thanksgiving feast one to remember.
Shop Now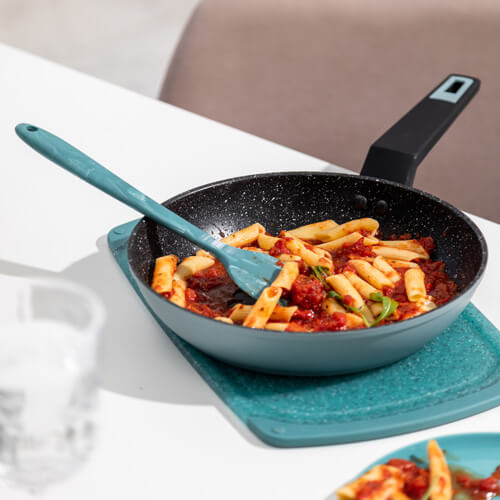 Kitchen Sets Will Make Your Cooking Easier
Our kitchen sets include everything you need to prepare your Thanksgiving meals, such as drink coaster sets, cutting board sets, steel mixing bowls, and even dish drying mat sets for when the preparation is complete! You won't have to look anywhere else for essential kitchen tools this holiday season. So, what makes our kitchen sets match? They all come in the same coastal colors of seafoam blue and turquoise and they have matching designs! Your guests will be wowed by how put-together your kitchen looks this holiday season! Make sure your kitchen is ready for Thanksgiving with the best matching kitchen sets from Lazuro.
Match Your Utensils With Your Kitchen Sets
What better way to ensure your kitchen looks cohesive this Thanksgiving than to get matching utensils? That's right, Lazuro offers a variety of utensil sets that come in the same colors and designs as our kitchen sets. This way, you can have spatulas, cheese graters, basting brushes, and more to match your dishware and kitchen sets! Even your kids will be excited to help with cooking when they see how colorful and fun the utensils are. Plus, our utensils are high-quality, ensuring they will last long after the holiday season is over. Purchase matching coastal-themed utensils and kitchen sets from Lazuro for a Thanksgiving that is sure to impress your family and friends.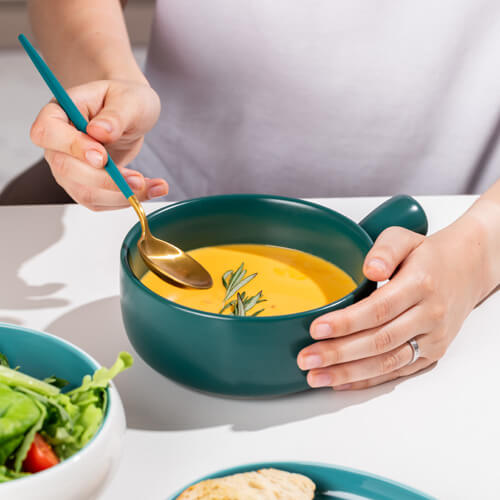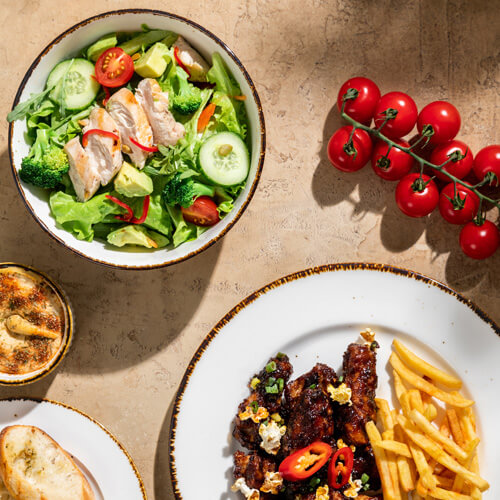 Upgrade Your Dishware With Bone China Sets
You may want to upgrade to bone china for a special holiday like Thanksgiving. Bone china is a type of porcelain that is known for being thin, delicate, and beautiful. It is also more expensive than other types of dishware. But don't worry, Lazuro has affordable bone china sets that will make your Thanksgiving feast look even more luxurious. Our bone china sets come in a variety of colors and designs, so you can find the perfect set to match your kitchen. From our simple tropical fish design to our light blue seahorse set, we have a bone china set that will make your Thanksgiving dinner table look amazing. Get an upgrade this Thanksgiving with beautiful bone china dishware from Lazuro.
Packing Up Leftovers Can Be Functional and Stylish
After your Thanksgiving feast, you will probably have loads of leftovers. You might be able to persuade your guests to take what they can, but you may not be able to do so with every dish! But don't just throw your leftovers in any old plastic container. Get matching food, lunch, and dressing container sets from Lazuro that are both functional and stylish. We have a variety of sizes and shapes to choose from, so you can find the perfect set for your needs. They will keep your food staying fresh and delicious until you're ready to relive your Thanksgiving feast! Plus, our food storage sets come in the same colors and designs as our other matching kitchen sets. This way, your containers will look just as good on your countertop as your dishes and utensils. Find matching food storage sets from Lazuro to make packing up leftovers a breeze this Thanksgiving!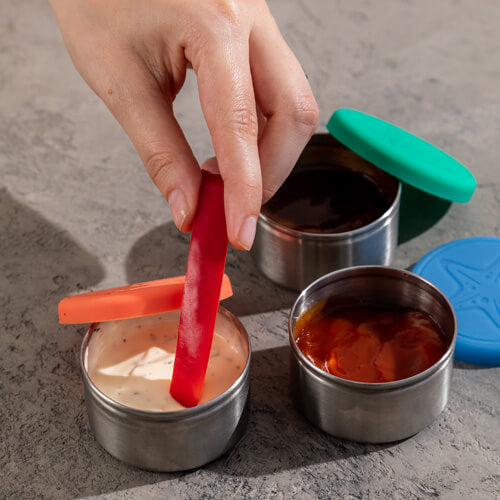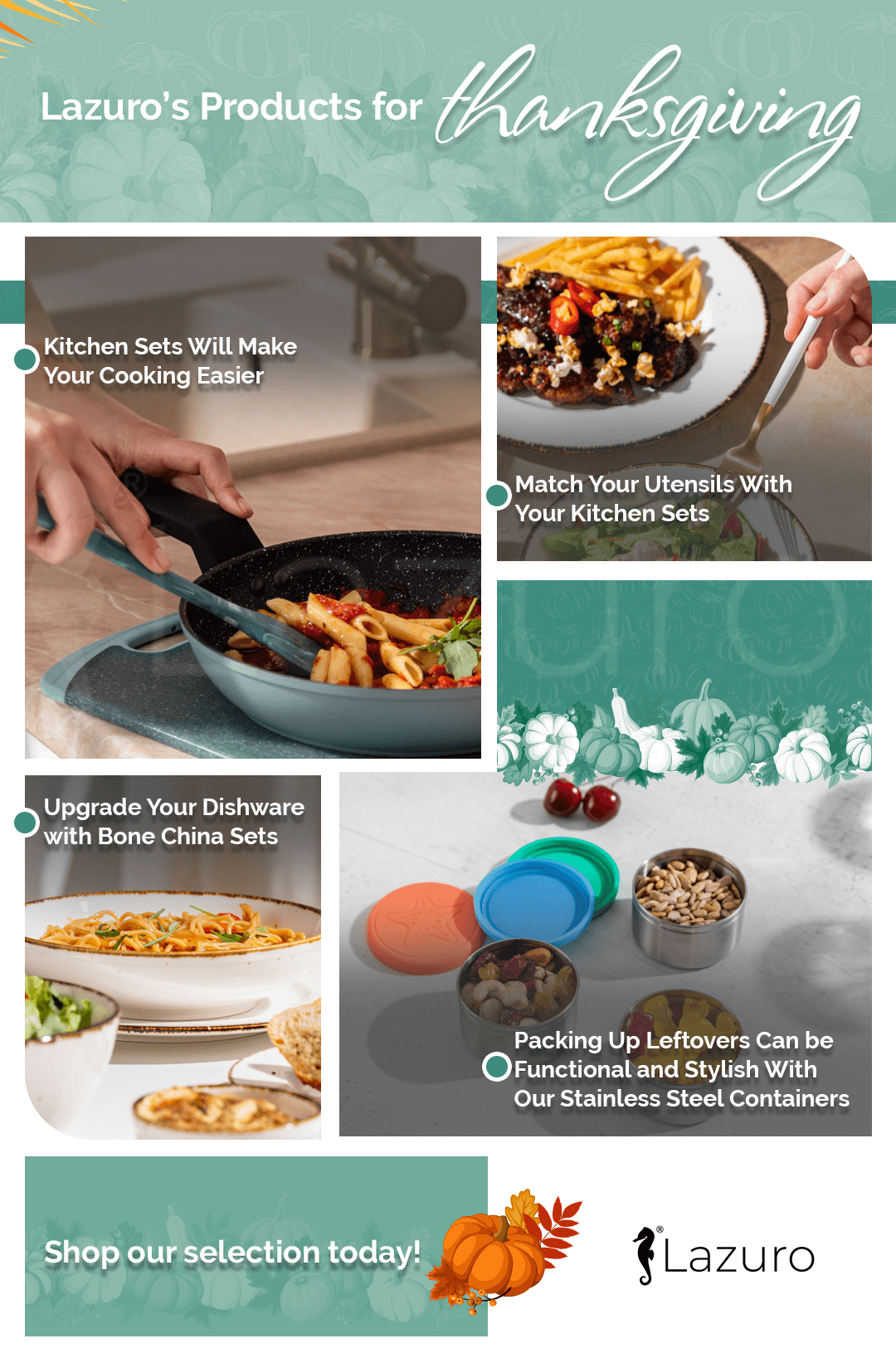 Shop Our Selection Today
Are you tired of your kitchen looking cluttered and mismatched? Do you want to impress your friends and family for your holiday meals? This Thanksgiving, upgrade your kitchenware with beautiful matching sets from Lazuro. Our products are both affordable and high-quality, ensuring they will last for many years to come. Plus, they come in a variety of coastal-themed colors and designs to complement any kitchen and taste. So make your Thanksgiving preparation easier and your kitchen look great with matching kitchen sets from Lazuro. Visit our website today to see our full selection of products!
Shop Now